:: Available items from this Label ::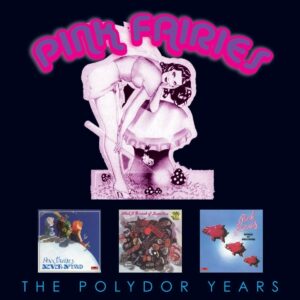 Pink Fairies / The Polydor Years
(3 x CD Boxset – Floating World Records)
Triple CD set. Pink Fairies grew out of The Deviants, a loose-knit band formed in 1967 by members of the West London hippie commune in Ladbroke Grove. Consisting primarily of vocalist Mick Farren, guitarist Paul Rudolph, bassist Duncan Sanderson, and drummer Russell Hunter, the group also featured satellite members Marc Bolan, Steve Peregrine Took, and players from the band Group X, later rechristened Hawkwind. After a disastrous US tour, Farren was fired and the remaining Deviants returned to London, where they recruited vocalist and former Pretty Things drummer Twink (born John Alder), who suggested the name Pink Fairies. Despite gaining a reputation for mythic debauchery, the group remained largely an underground sensation before signing to Polydor and releasing the three albums featured on this 3 CD set. The first two albums were recorded by the original line-up but Rudolph was replaced by Larry Wallis for the third (Kings Of Oblivion). This set is packed with bonus tracks.