:: Available items from this Artist/Band ::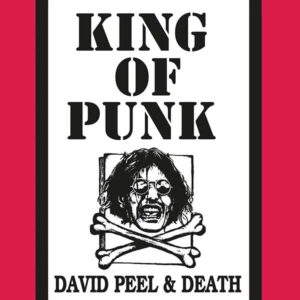 David Peel & Death / King Of Punk
(Vinyl LP – Mono-Tone Records)
'King of Punk' is the 1978 LP from counter culture icon David Peel.
David Peel is a true original, an enigma as tough, bombastic, and incendiary as any of the proto-punk gods he walked the Earth with back in the late 1960s. With this epic 1978 masterpiece, Peel takes on the movement head-first, laying waste and disrespect for the punk bands of the moment in one of the first-ever punk BEEFS laid onto wax, as he dismisses by name, a modern list of punk luminaries. David Peel's signature style is clearly in place here as he cranks through his cadre of hits covering everything from CIA mind-control, to the controversial subject of "Who Killed Brian Jones?" which raises even more suspicion of foul play from the surviving Rolling Stones, all called out directly by name, of course. King of Punk is a grinding, gritty, and gutteral trip through the mind of a true radical revolutionary punk icon, the kind with a 40-page FBI file as well as arrest records for inciting riots.