:: Available items from this Label ::
Big Boy Pete / The Cosmic Genius Of Big Boy Pete 1965-1977
(Vinyl LP – Mono-Tone Records)
This first ever vinyl compilation features his best '60s stuff on one side and seven unreleased gems from the '70s on the other — ranging from wild and fuzzy garage to psych pop and freaky country-rock! Includes a psychedelic color inner cover with lyrics and text.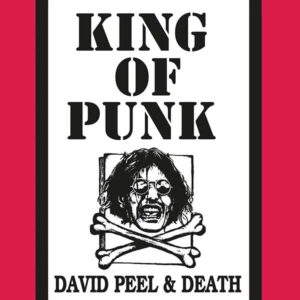 David Peel & Death / King Of Punk
(Vinyl LP – Mono-Tone Records)
'King of Punk' is the 1978 LP from counter culture icon David Peel.
David Peel is a true original, an enigma as tough, bombastic, and incendiary as any of the proto-punk gods he walked the Earth with back in the late 1960s. With this epic 1978 masterpiece, Peel takes on the movement head-first, laying waste and disrespect for the punk bands of the moment in one of the first-ever punk BEEFS laid onto wax, as he dismisses by name, a modern list of punk luminaries. David Peel's signature style is clearly in place here as he cranks through his cadre of hits covering everything from CIA mind-control, to the controversial subject of "Who Killed Brian Jones?" which raises even more suspicion of foul play from the surviving Rolling Stones, all called out directly by name, of course. King of Punk is a grinding, gritty, and gutteral trip through the mind of a true radical revolutionary punk icon, the kind with a 40-page FBI file as well as arrest records for inciting riots.
Kim Fowley / Living In The Streets
(Vinyl LP – Mono-Tone Records / Munster Records)
Kim Fowley has been a maverick presence in rock n' roll history for over fifty years. Living In The Streets (1977) is a compilation of his solo recordings, some of them dating back to the beginning of the decade, and remains a worthy monument to the seventies recordings of the Dorian Gray of rock n' roll, the human jukebox: the unstoppable Kim Fowley.
Les Rallizes Denudes / Live 77 Tachikawa
(2 x Vinyl LP – Mono-Tone Records)
Mono-Tone Records present a reissue of Les Rallizes Dénudés's historic performance from 1977 in Tachikawa. This double LP has everything Les Rallizes Dénudés are known for – ear piercing feedback, languid guitar strumming, wild reverberated solos, lurid volume, blasé vocals, and unbelievable intensity, combined for a total sensory assault. Revolutionary and psychedelic, the unlikely meeting of The Velvet Underground and the Japanese Red Army, Les Rallizes Dénudés are among the earliest and most outer Japanese psyche/noise rock'n'roll bands who existed.
Simply Saucer / Saucerland
(2 x Vinyl LP – Mono-Tone Records)
Canadian proto-punk legends & underground darlings' archival rarities! Alternative takes, live recordings, & demos from 1975 to 1978! A mix of frantic garage rock, free form cosmic Kraut, the loud ferocity & heavy riffing of the Stooges & MC5, the art rock and proto punk sound of the Velvet Underground & Modern Lovers, & the British psychedelia of Syd Barrett-era Pink Floyd & early Hawkwind!