:: Available items from this Label ::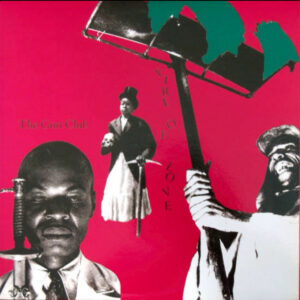 The Gun Club / Fire Of Love
(Vinyl LP – Munster Records)
2021 repress; 2003 release.What makes Fire Of Love such a brilliant listen long after its time is that this blatant homage to the blues was amplified, energized and kicked into overdrive — in a new style that combined the ghostliness of the original model with a FAST, unwound and supremely energetic beat. The engineering feats of Pat Burnette contributed to that sound: he wielded his Quad-Teck studios like a weapon, and mastered some of the greatest sides in LA music history (such as Germs' GI). Pure fullness of sound and the raw hot throb of records that were made to stand the test of time. From the immensely dark and aggressive sexuality of "Sex Beat," Gun Club's most recognizable number, to the fetishistic salute to fellow traveler Poison Ivy of The Cramps in "For The Love Of Ivy," including the hellfire classic "She's Like Heroin To Me," a 2:33 masterpiece in which everything comes together; Fire Of Love is pure perfection. It stands among the greatest classics of rock history, and shows the genius of the great Jeffrey, whose haunted singing has never been replaced. It proved out to be one of the most influential records of the '80s, with countless musicians declaring their love for the Club.
Kim Fowley / Living In The Streets
(Vinyl LP – Munster Records / Mono-Tone Records)
Kim Fowley has been a maverick presence in rock n' roll history for over fifty years. Living In The Streets (1977) is a compilation of his solo recordings, some of them dating back to the beginning of the decade, and remains a worthy monument to the seventies recordings of the Dorian Gray of rock n' roll, the human jukebox: the unstoppable Kim Fowley.
Mars / 3 E b/w 11,000 Volts
(7″ Vinyl – Munster Records)
Reissue of the 1978 debut 7″ by Mars, one of the essential bands from New York's no wave scene. "A cavernous musical universe riddled with eerie sound storms whose poisoned atmosphere seduced and threatened. Obtuse and unforgiving. Sickly sexy." – Lydia Lunch
The Monks / Demo Tapes 1965
(CD – Munster Records / Play Loud!)
Yes, the legendary band the Monks, responsible for one of the most fabulous records of 60s (Black Monk Time). This is a totally pro studio recording that preceded the album. Here you can find earlier versions of most the album best songs. In this record we have also included two tracks of The Five Torquays (The Monks before changing names and shaving their heads), and one track of the Monks Tribute record Monk Hop by Jason Forrest. Listen up, jerk, it's black Monk time all over again!
Swell Maps / Archive Recordings Volume 1: Wastrels And Whippersnappers
(Vinyl LP – Munster Records)
All tracks recorded at various garages, bedrooms and lounges in Solihull and Dorridge, West Midlands, between 1974-1977.
Von Lmo / Be Yourself b/w Cosmic Interception
(7″ Vinyl – Munster Records)
Advanced release from the long awaited "Tranceformer" anthology that compiles all the best moments by this madcap genius from NYC. B-side contains a previously unreleased gem that can only be found on this 7″. Sci-fi avant-garde music from futuristic punk pioneer, Von Lmo.