:: Available items from this Artist/Band ::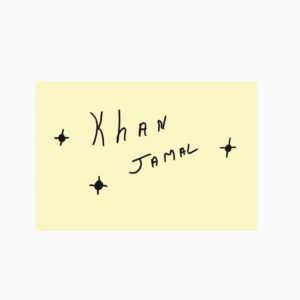 Khan Jamal's Creative Arts Ensemble / Drum Dance To The Motherland
(Vinyl LP – Aguirre Records)
There's not another album on the planet that sounds even remotely like vibraphonist Khan Jamal's eccentric, one-of-a-kind masterpiece, Drum Dance To The Motherland. Thirty years after its release, the album's tapestry of sound, fearless abstractions, relentless grooves, cool swing, flashes of ecstasy, & pan cultural embrace remain powerful & beyond category. One of only three albums released on the Philadelphia-based Dogtown label, it was barely distributed beyond the city's limits when it came out in the early '70s.
Finally available again, a really stunning document of musical exploration, a classic session. In its improbable fusion of free jazz expressionism, black psychedelia, & full-on dub production techniques, Drum Dance remains a bracingly powerful outsider statement fifty years after it was recorded live at the Catacombs Club in Philadelphia, 1972. Comparisons to Sun Ra, King Tubby, Phil Cohran & BYG/Actuel merely hint at the cosmic otherness conjured by The Khan Jamal Creative Arts Ensemble & by sound engineer Mario Falana's real-time enhancements.