:: Available items from this Label ::
Ethix / Bad Trip
(7″ Vinyl – Aguirre Records)
Extremely rare 7″ by Fifty Foot Hose band members. Bad Trip was recorded with Bob Noto on Guitar – Bob Gibson screaming and hollering and Cork Marcheschi playing bass and hitting a large card board tube with a stick. They recorded it on a two track sony in Cork's parents family room and put Bob in the bath room as a kind of sound booth. It was Cork's way to deal with Music Concrete and he suggested that the record could be played at any speed, his love for Dadaism was fully realized in Bad Trip.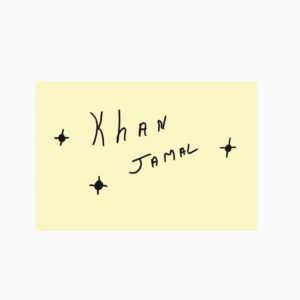 Khan Jamal's Creative Arts Ensemble / Drum Dance To The Motherland
(Vinyl LP – Aguirre Records)
There's not another album on the planet that sounds even remotely like vibraphonist Khan Jamal's eccentric, one-of-a-kind masterpiece, Drum Dance To The Motherland. Thirty years after its release, the album's tapestry of sound, fearless abstractions, relentless grooves, cool swing, flashes of ecstasy, & pan cultural embrace remain powerful & beyond category. One of only three albums released on the Philadelphia-based Dogtown label, it was barely distributed beyond the city's limits when it came out in the early '70s.
Finally available again, a really stunning document of musical exploration, a classic session. In its improbable fusion of free jazz expressionism, black psychedelia, & full-on dub production techniques, Drum Dance remains a bracingly powerful outsider statement fifty years after it was recorded live at the Catacombs Club in Philadelphia, 1972. Comparisons to Sun Ra, King Tubby, Phil Cohran & BYG/Actuel merely hint at the cosmic otherness conjured by The Khan Jamal Creative Arts Ensemble & by sound engineer Mario Falana's real-time enhancements.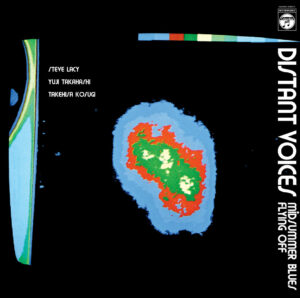 Steve Lacy, Yuji Takahashi, Takehisa Kosugi / Distant Voices
(Vinyl LP – Aguirre Records)
During the summer of 1975 Lacy toured Japan, and on June 24th he entered a Nippon Columbia studio in Tokyo with Yuji Takahashi and Takehisa Kosugi, two adventurous kindred spirits, guaranteed to fire Lacy's creative imagination. The fascinating outcome of that dynamic session is Distant Voices, an album without parallel in Lacy's extensive discography.
Composer Iannis Xenakis was so impressed when he heard Yuji Takahashi playing piano in 1961 that he later wrote music especially for him. The Japanese virtuoso rose to that formidable challenge and many others as he rapidly established himself as one of the foremost interpreters of contemporary composed music. His repertoire extends back to Bach and Purcell yet for Takahashi music has remained an open quest and a process of discovery.
Takehisa Kosugi on the other hand has been a legendary figure in the international avant garde since the mid-1960s when his work was endorsed by the Fluxus movement. In Japan he was by then already well established as leading practitioner of experimental music and intermedia performance art. At the time Distant Voices was recorded Kosugi had also developed a following for his electric violin playing with the Taj Mahal Travellers, a group whose sound had strong stylistic affinities with psychedelic rock and space music. Subsequently other audiences worldwide came to know Kosugi through his long association as a composer, performer and musical director with the Merce Cunningham Dance Company.
On 24th June 1975 Takahashi sat at a grand piano, with celeste and vibraphone alongside him and small bells attached to his hands. Kosugi was equipped with violin, flute, mouth organ, an electronic modulator, porcelain bowls and at times he used his voice. Lacy played soprano saxophone, of course. Now and then he pressed the mouth of the instrument against the skin of a kettle drum. He occasionally fiddled with a transistor radio, and also found uses for a stepladder, a toothbrush and a spinning wheel. This was in no sense a routine musical session. Distant Voices preserves a unique occasion when three singular musicians joined together to embrace the unknown.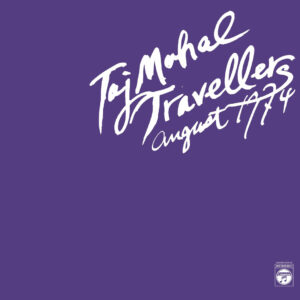 Taj Mahal Travellers / August 1974
(2 x Vinyl LP – Aguirre Records)
High quality reissue of the monumental work August 1974 by Japanese experimental music ensemble Taj Mahal Travellers. Pressed on 180gr. vinyl with extensive liner notes by Julian Cowley.
In April 1972 a group of Japanese musicians set off from Rotterdam in a Volkswagen van. As they crossed Europe and then made their way through Asia they made music in a wide range of locations. They also paid close attention to the changing scene and to differing ways of life. Midway through May they reached their destination, the iconic Taj Mahal on the bank of the Yamuna river in Agra, India. The Taj Mahal Travellers had fulfilled physically the promise of the name they adopted when they formed in 1969. But their music had always been a journey, a sonic adventure designed to lead any listener's imagination into unfamiliar territory.
The double album August 1974 was their second official release. The first July 15, 1972 is a live concert recording, but on 19th August 1974 the Taj Mahal Travellers entered the Tokyo studios of Nippon Columbia and produced what is arguably their definitive statement. The electronic dimension of their collective improvising was coordinated, as usual, by Kinji Hayashi. Guest percussionist Hirokazu Sato joined long-term group members Ryo Koike, Seiji Nagai, Yukio Tsuchiya, Michihiro Kimura, Tokio Hasegawa and Takehisa Kosugi.
The enigmatic Takehisa Kosugi, whose soaring electric violin was such a vital element in their music, had been a pioneer of free improvisation and intermedia performance art with Group Ongaku at the start of the 60s. Later in that decade, before launching the Taj Mahal Travellers, he had become known internationally through his association with the Fluxus art movement. During the mid-70s the Travellers disbanded and while his colleagues more or less stopped performing as musicians Kosugi continued to reach new audiences across the course of several decades as a composer, regular performer and musical director for the acclaimed Merce Cunningham Dance Company.
August 1974 captures vividly the characteristic sound of the Taj Mahal Travellers, haunting tones from an unusual combination of instruments, filtered through multiple layers of reverb and delay. Their music has strong stylistic affinities with the trippy ambience of cosmic and psychedelic rock, but the Taj Mahal Travellers were tuning in to other vibrations, drawing inspiration from the energies and rhythms of the world around them rather than projecting some alternative reality. Films of rolling ocean waves often provided a highly appropriate backdrop for their lengthy improvised concerts. This is truly electric music for the mind and body.