:: Available items from this Artist/Band ::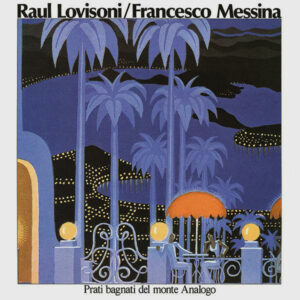 Raul Lovisoni / Francesco Messina – Prati Bagnati Del Monte Analogo
(Vinyl LP – Superior Viaduct)
Of all the releases on Italy's legendary Cramps Records, Raul Lovisoni and Francesco Messina's seminal LP from 1979 has long remained among the most beloved. Prati Bagnati Del Monte Analogo not only introduced the world to the work of two gifted composers, but also is notable for being produced by electronic pioneer Franco Battiato. A sister album to Prati Bagnati would be Giusto Pio's breathtaking Motore Immobile, likewise graced with the maestro's gentle hand around the same time.
Prati Bagnati Del Monte Analogo's meditative title track, inspired by René Daumal's surrealist novel Le Mont Analogue, features Messina on synthesizer and Michele Fedrigotti's impressionistic piano, while on Lovisoni's "Hula Om" and "Amon Ra," solo harp, crystal glasses and Juri Camisasca's radiant vocal drones further ascend into the stratosphere. Skirting the outer edges of ambient, new age and experimental music, Prati Bagnati has a transformative beauty unlike anything else.