:: Available items from this Artist/Band ::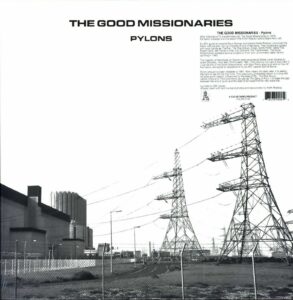 The Good Missionaries / Pylons
(Vinyl LP – Color Disc)
The hipness and success of London punk-explosion photocopy fanzine Sniffin' Glue was almost entirely due to the irreverent, pugnacious sincerity of its founder/spark-plug Mark Perry. That Perry should form a band (Alternative TV) seemed a natural progression; that it was any good at all a surprise; that it maintained a stance utterly disdainful of compromise a small miracle.' The Good Missionaries emerged, phoenix-like, from the ashes of Alternative TV (ATV). They released one live album Fire From Heaven, before ATV founder Mark Perry left. Ex-ATV guitarist/vocalist Dave George and bassist Keith Rodway continued the band, with several line-up changes during those days.
The majority of the tracks on Pylons were recorded at Street Level Studios by Grant Showbiz, late 1979 to early 1981. They feature the second and third incarnations of the Good Missionaries, with Mark Perry playing drums on four of the tracks, alongside an appearance by ex-ATV bassist Dennis Burns. Pylons should have been released in 1981 — it would no doubt have featured on many lists of post-punk classic albums had that been the case. Now, nearly 40 years later, it is seeing the light of day for the first time.