:: Available items from this Label ::
The Cosmic Jokers / The Cosmic Jokers
(Vinyl LP – Die Kosmischen Kuriere)
Die Kosmischen Kuriere reissue the legendary debut album of the krautrock all-star band from 1974. Produced at Dierks Studios with the collaboration of Dieter Dierks. What an amazing improvement in the sound of this 48-year-old recording. Remastered from the original analog tapes. Released on the original Die Kosmische Kuriere label. Contributors: Manuel Göttsching, Klaus Schulze, Jürgen Dollase, Harald Großkopf, Dieter Dierks, a.o. — Carefully transferred from original, analog master tapes at the Dierks studios, Pulheim-Stommeln in 2021. Remastered by Dieter Wegner.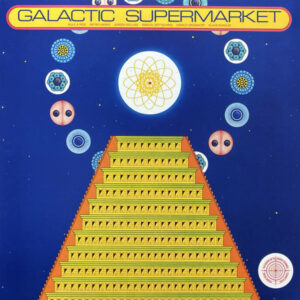 The Cosmic Jokers / Galactic Supermarket
(Vinyl LP – Die Kosmischen Kuriere)
LP version. 180 gram vinyl. In 1974, the Cosmic Jokers were basically Klaus Schulze, Manuel Göttsching, various Ash Ra Tempel and Wallenstein members doing late night jamming. Galactic Supermarket is one of them, and is more rock-oriented than many others. It's no surprise the music bears more than a passing resemblance to Ash Ra Tempel, because of Manuel Göttsching and his guitar playing. Also, Jürgen Dollase gives some nice keyboard work, particularly the piano, Farfisa electric piano, synths, and even a little Mellotron. Klaus Schulze were more responsible for the more droning organ and synth end of things, it's pretty obvious when he plays it. The legendary producer Dieter Dierks plays bass on these nearly never-ending improvisations. The recording was transferred from the original analog tapes at the Dierks Studios in Germany. Carefully remastered for an incredible result. Released on the label Die Kosmischen Kuriere (The Cosmic Couriers)
Walter Wegmüller / Tarot
(2 x Vinyl LP – Die Kosmischen Kuriere)
First-ever vinyl reissue from the orginal analog master tapes !
The original analog master tapes were transferred with higher resolution and remastered with great care. Remastered by Dieter Dierks and Dennis Flüchter.
This is a Cosmic Courrier Kraut classic. Wegmuller was an artist who had designed a Tarot card set, & the music here is performed by what is basically the first version of the Cosmic Jokers: Manuel Gottsching, Hartmut Enke, Harald Grosskopf, Jurgen Dollase, Jerry Berkers & Walter Westrupp.
Produced by that big Cosmiche Joker himself, Rolf-Ulrich Kaiser, & star-maiden Gille, there are many moments of wild, searing Krautrock !