:: Available items from this Artist/Band ::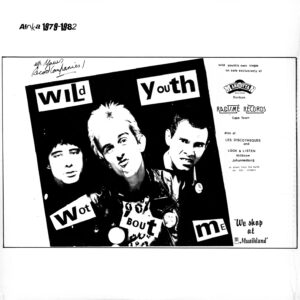 Wild Youth / Afrika 1979-1982
(Vinyl LP – Patron Of The Arts)
Arguably the first punk combo in South Africa and founded out of boredom in March 1978 by Michael (vocals/guitars), Skid (bass), Mark (drums) and they grew up in the culturally spiritually devoid and morally corrupt wasteland of Apartheid South Africa. Mark was replaced by Rubin and a single, Radio Youth, was released by their own in 1979 in an edition of 300 copies. It was to be their only slab of their short-lived history (they broke up 1980). But fortunately the three recorded more songs which are available posthumously as singles or compilations, and that was a wise decision. This fuckin' great nugget of eleven blasts came out via Patron Of The Arts in a limited edition of 188 copies, two of them in clear vinyl. Their music is raw, wild, short, dynamic and catchy. This sound is what I call punkrock… I tell you, these songs let tufts grow out of your ears and you press the repeat knob more than once and I guarantee: if you feel down, choose Wild Youth and you give a shit about the fucking gray world!
This is the first time that all the studio recordings are included on one vinyl release. This music is feral, brash and full of angst. 25 minutes of music, eleven songs in total playable at 45 rpm, including the 1979 demos, the Six of the Best recordings and both sides of the Wot 'bout Me? 7″.
Wild Youth / Slap Gat'n Roll
(2 x Vinyl LP – Nietigheid Projek Rekords)
The definitive retrospective of late '70s South African punk luminaries Wild Youth and offshoot band the Gay Marines, Slap Gat'n Roll combines both groups' original recordings with demos and a late '80s Gay Marines rarity.
Wild Youth were the first punk band in South Africa active from 1977-1980 and released the first South African punk single 'Wot 'bout me?' – arguably the most collectable South African release of all time.